About Jo-Ann Kalb
If you are parents with a young child who is having difficulty acquiring reading skills, I'm a reading tutor in Brooklyn, and I can help. After 23 years of teaching first & second grade, I became an elementary school librarian for the next 10 years.  During my classroom teaching days I wondered why there were certain kids who seemed bright BUT couldn't learn how to read the way I was teaching them.  It wasn't until I retired and began attending The New York Dyslexia Conference on a yearly basis that I learned about alternate ways to teach reading.  Now it all made sense. That's when I became interested in reading intervention for all those bright kids who weren't learning how to read. I've received certificates for training in Orton-Gillingham, PAF, Wilson Foundations, Sounds in Motion, Great Leaps, and Rewards.  All are multi-sensory Orton-Gillingham based reading programs that are research-based and have proven effective in teaching children who are struggling to acquire reading skills. I use a combination of all these programs along with additional practice materials to develop an approach tailored for your child. The materials cost between $200-$500, and I provide all of them for free. I also encourage the parent, if possible, to be present during sessions so that they can support their child between sessions. If you go on vacation and want to continue instruction, which I heartily suggest, I will try to arrange SKYPE sessions. Reading is the single most important skill your child will acquire during the first few years of elementary school.  Together, we can give him or her the tools necessary to succeed, boost self confidence, and become a thriving reader.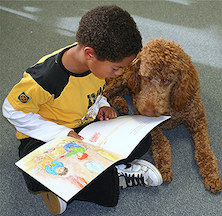 Outside of a Dog, A Book is Man's Best Friend, Inside of a Dog, It's Too Dark To Read. - Groucho Marx
Member of The International Dyslexia Association
Member of Everyone Reading NYC
Yearly Participant in Everyone Reading Conference NYC
Certification from the Institute Of Multi-Sensory Education for Orton-Gillingham Training
Certification from The Churchill School for PAF (Preventing Reading Failure)
Certification from The Children's Hearing Institute Educational Outreach Program for Sounds In Motion.
Wilson Foundations & Great Leaps Fluency Program Certification & Training through the New York Department of Education